Our applications are developed in such a way that they can be easily translated.
But some of the current translations are google translator machine translation.
If you want to help us translate into your language, we will thank you and for that we will make an additional 15% discount on our services.
| Laguage | Type | Download |
| --- | --- | --- |
| Català | Human | |
| Español | Human | |
| English | Human | |
| Euskara | Automatic | |
| Française | Automatic | |
| Galician | Automatic | |
| Deutsch | Automatic | |
| Italiano | Automatic | |
If you want translate to your language, please first contact with us for be sure to get the last version.
Steps
Download your language or contact with us for create a new language.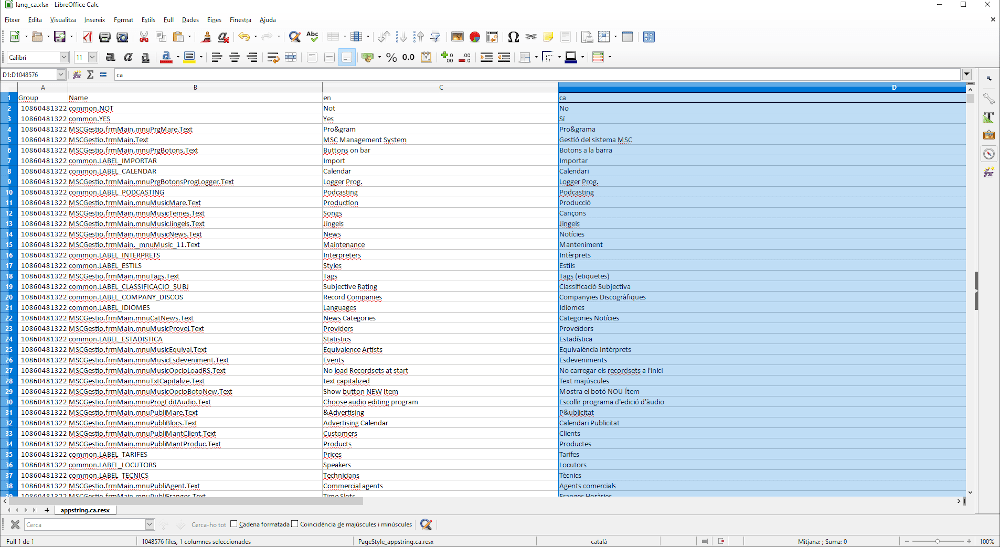 Open the file with your favorite spreadsheet.
The column Group and Name ís a code reference, the en (English) column is the language reference. Don't change this columns, only need to change the 4th column that is the language you want translate. There are a total of 1592 lines to be translated.
For help you to translate, the column "Name" is a reference of the different forms. For example then row 3 :"MSCGestio.frmMain.mnuPrgMare.Text" is a reference for the application MSC Manager , the main screen and a text label in this screen. You can set the language to English and browse the different applications to contextualize the phrase you are translating.
When you finish your work please send to us the file via email, them we processing the file and publish the new language.